Our chat
rooms
Chat rooms on Date a Man allow you to chat and interact with like-minded people, near you or around the world.

On our various thematic exhibitions you can talk about everything, share your experiences, your desires and your tips with ease.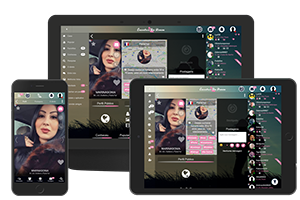 # Between Women
As the name suggests, this salon is for women only. Come talk, confide and more. The ideal place for a quiet chat with women.
# Between Men
This show is intended only for single men or not. Come discuss, discuss and share your experiences and tips in a good mood.
# Between You
Each member can open his personal lounge, attached to his profile.
Ideal for leaving comments or having instant chats with others.
# Between Singles
Chat with single men and women on our singles lounge. Use private messaging to communicate more intimately.
# Charm
Ideal place to chat with men and women freely. Discuss without taboos in all discretion in our Charme lounge.